1973 Overview Map and Key
The text of the key is taken directly from the 1973-4 vintage overview of proposed highway projects. Solid black lines represent existing highways. Dashed grey lines represent "committed" projects, and may be slightly off, as some were largely completed when this was published, and other "committed" projects were cancelled.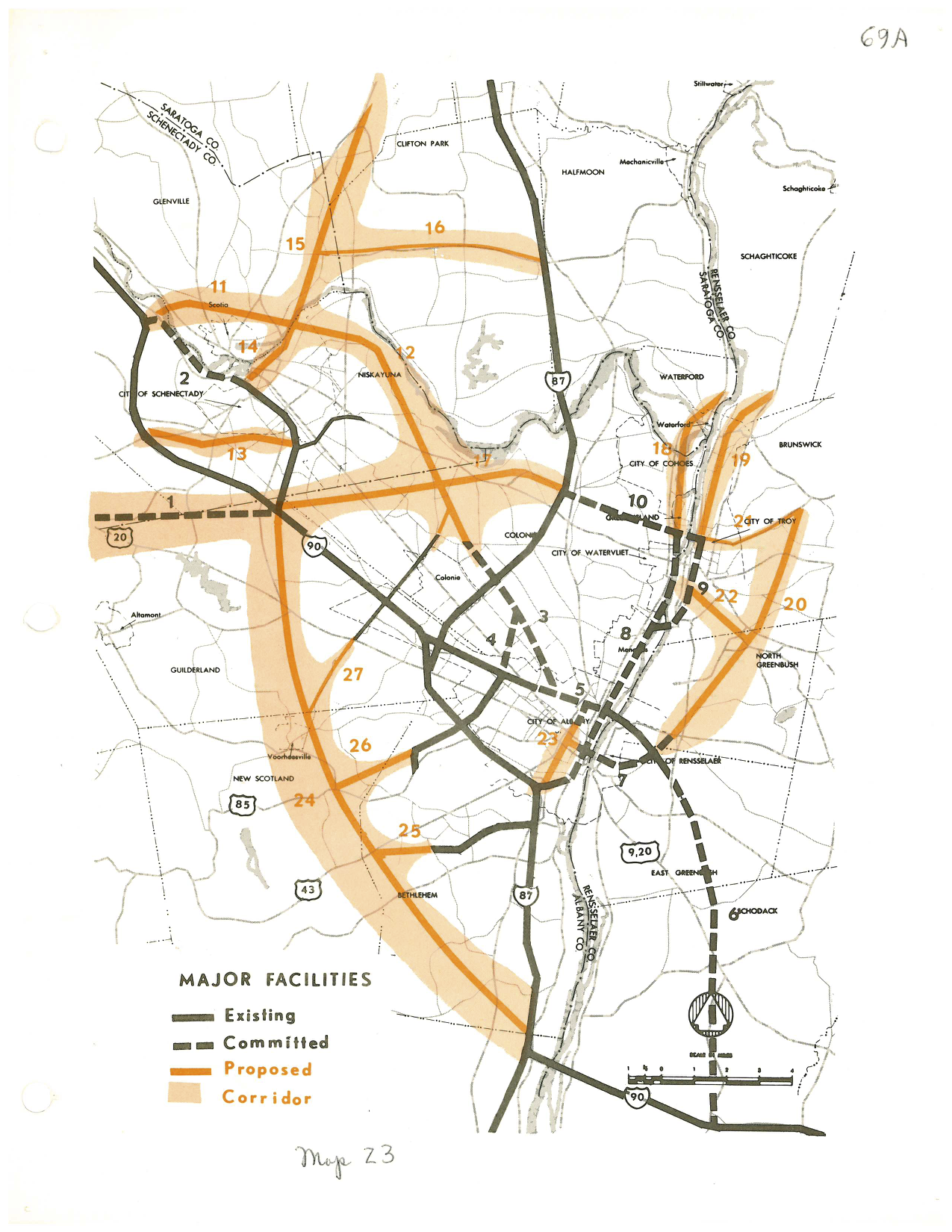 The text of the key is presented as is; I have not corrected any of the errors found in the original document. Numbers 5 and 16 appear on the map but not in the key.
Interstate 88: This Freeway will connect the Capital District with Binghampton, running parallel to Route 7 between the Thruway in Schenectady County Broome County
Interstate 890: Interstate 890,a freeway now opened between Thruway Exit 25 and the General Electric Plan is being extended north-westward to Thruway Exit 26.
Interstate 687 and Airport Connection: The Albany County Airport, the Northway, and the Northside Arterial will be connected by a freeway to be built parallel to and southwest of Albany-Shaker Road. The road will intersect the Northway at Exit 3 (to be built) and, Interstate 90 east of Everett Road.
Albany Crosstown Extension: The Route 85 freeway will be extended northeastward to Interstate 687, providing the State Office Campus direct access to the Northway and the Albany County Airport.
Interstate 90 - Rensselaer County: This freeway will be extended southward from its present terminus at Route 4, Couse Corners, to teh area near Exit B1 on the Berkshire Section of the New York State Thruway.
South Mall Facility: A freeway will be built between the South Mall and Defreestville, Rensselaer County. A part of this highway is open for traffic as the new Dunn Memorial Bridge crossing the Hudson River.
Interstate 787: Exit 23 of the Thruway will be connected directly to downtown Albany, Menands, Watervliet, and Troy by a freeway running along the west bank of the Hudson. Two sections of this road, near the Thruway Exit 23 and the other between downtown Albany and Green Island, are presently open to traffic.
North-South Corridor: A major Highway planned to run nort-south through the City of Troy between the Menands Bridge and Hoosick Street (on a route is stil to be determined) will relieve traffic congestion on the city's major roads.
Alternate Route 7: A major road paralleling existing Route 7 will provide an access-controlled route between Troy and Watervliet and the Northway, relieving existing route 7 from heavy traffic.
Scotia Bypass: To provide an additional river crossing and to relieve congestion on Routes 5, 50 and 147, a bypass is planned to run between northern Schenectady around Scotia to Exit 26 of the Thruway.
Albany-Schenectady Route: This highway is planned to relieve congestion on Routes 5, 7 and 146 by providing an additional route between Albany and Schenectady
Rotterdam Facility: A road parallel to the railroad between Route 7 in the vicinity of the interchange with Interstate 890 ann Route 7 where it crosses Thruway will provide access between these parts of the Capital District.
Erie Boulevard/Maxon Road Corridor: Erie Boulevard will be improved and extended northeastward with connections to the Scotia Bypass and the Albany-Schenectady Route, improving access between downtown Schenectady, Niskayuna, and Scotia-Glenville and relieving congestion in downtown Schenectady.
Schenectady - Route 50 Corridor: An extension of the Erie Boulevard-Maxon Road Corridor, this corridor is intended to improve access times between Schenectady, Niskayuna, Glenville, and southern Saratoga County as well as to provide relief to Routes 50 and 146.
Alternate Route 7: This corridor extends from the Northway at Exit 7 to the vicinity of Thruway Exit 25, connecting at the latter with Interstate 88. The corridor between the Northway and Thruway will be an extension of the section of Alternate Route 7 between Troy and the Northway for which plans are further advanced (see section on Highways in Advanced Stages of Implementation). The extension generally parallels existing Route 7, and when completed will provide a limited access route between Binghamton and Troy.
Cohoes-Waterford Corridor: The Riverfront Arterial Interstate 787) as far north as Maplewood on the west side of the Hudson, north of Waterfliet is completed. A proposal to extend this facility further north through Cohoes and Waterford will remove through traffice from these two muncipalities and provide access between them and the region's major highway facilities.
Troy North-South Corridor Extension: The Troy North-South arterial is to be extended nortwhard from Route 7 through north Troy to Route 40, providing access to that section of the city and relieving traffic congestion on the north-south roads and the Hudson River Bridges
South Mall Facility Extension: The South Mall Facility is presently planned to terminate at Route 4 in Defreestville. An extension of the new road to Route 7 between Troy and Brunswich Center will provide relief for traffic congestion on Routes 2, 4, 7 and 40 as well as an improved north-south route in this part of Rensselaer County
Hoosick Street: Improvements are needed on Route 7 through Troy (Hoosick Street) to accomodate the heavy traffic volumes that are expected to continue using this highway.
East-West Connector: A connection between the Troy North-South Corridor and the South Mall Facility is planned to provide relief from traffic congestion on Route 66 and provide access to the Hudson Valley Community College.
Albany Mid Crosstown Corridor: Additional capacity is needed in this important corridor which acts, in general, as a collector-distributor; providing a connecting link between the city's major east-west streets. The corridor, sometimes called the Route 9-9W extends from the vicinity of Thruway Exit 23 to Route 9 and I- .
Selkirk-Schenectady Route: The Thruway will be connected to the Delmar and Slingerlands Bypasses, and Karner Road by a highway running on a southeast-northwest alignment between Thruway Exits 22 and 25 and passing through or near Bethlehem, New Scotland, Guilderland and Voorheesville.
Delmar Bypass Extension: The existing road will be extended at its southwestern end to connect with the Selkirk-Schenectady Route.
Slingerlands Bypass Extension: This road will be extended to connect with the Selkirk-Schenectady Route.
State Farm Road: The existing road will be improved to provide a better connection between the Selkirk-Schenectady Route and Karner Road.
Completed, but terminated at a new Exit 25A rather than at Exit 25.
Completed.
Cancelled. The exit on I 90 was built and now serves the Corporate Woods office park. There is no Exit 3.
Cancelled when I 687 was cancelled.
Completed.
The extension from the Dunn Bridge to Defreestville was cancelled.
Completed.
Cancelled.
10. Completed. Now Route 7; the old Routing is now part of Route 2.
17. Never built.
There is some indication that tentative plans existed to make this highway part of I 88.
This project was cancelled. Some preliminary construction work was eventually repurposed for the new bridge over the Mohawk connecting Exit 26 with Route 5.
This highway, sometimes referred to as the Scotia Arterial or the Albany-Schenectady Expressway, would have connected to the west end of I 687. Not built.
Not built.
Not built as planned. In the 1980s, Erie Boulevard was extended past the Alco plant to connect to the new Freemans Bridge.
Not built.
Eventually built as NY 787, but truncated at the Mohawk River in Cohoes.
Not built.
Not built. Note that a plan for a north-south highway from Defreestville to the vicinity of Hudson Valley Community College to relieve congestion from US 4 has been kicking around for years.
Hoosick Street has seen some upgrades since the Collar City Bridge was completed, although they are insufficient and may or may not be related to this vague line item in the key.
Not built.
Provisions were made for this highway at its endpoints (Exit 23 and the interchange of US-9 and I-90), but it was not built.
Not built.
Not built.
Not built.
Any improvements do not appear to be related to this plan.